<![if !vml]>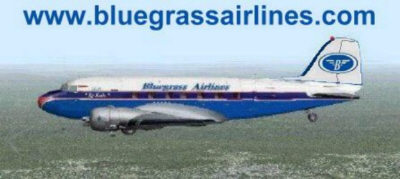 <![endif]>
January 2005 Newsletter
Features of the Month
Toughman Challenge # 9 by Ron Jorgensen  Offset approaches in the fjords of Norway.
This is the last Toughman until after the Great Aussie Air Rally of 2005
Australian Division
The route is finalized and all the flights have been tested for "The Great Aussie Air Rally of 2005".  The Web-Site opens and registrations will be accepted beginning January 15th
This years event consists of 54 flights which are to be flown beginning February 1st.  There are no required reporting dates, so you can fly them as time permits.  There isn't any scoring, but the roster and view flight reports pages will be updated frequently.
You can view the ports of call now at:    GAAR 2005 Ports of Call
Multi-Player Flying
While we have enjoyed flying on BushNet, Bluegrass Airlines is now affiliated with West Coast ATC.  They have set us up with two private TeamSpeak channels which we can use for in-flight communications and chat meetings.
So sign up as a pilot, using your Bluegrass ID.   i.e.  bgas001   It will work best if you use lower case as your ID is displayed while you are flying and will take up less space.  It also may help keep all the pilot sorted in order, but I'm not positive about that.
Once you get set up, log in and click on "Pilots Start Page" then "Join Virtual Airline".  Then page down to Bluegrass (currently at the bottom) and sign up.   The next time I log in, I will approve the application and your call sign will be associated with Bluegrass, and will appear on the Bluegrass profile.  I will then send you the instructions to set up TeamSpeak and a password for our private channels.
When you make a flight, connect to the West Coast ATC 24 hour Free Server.  (IP provided on web-site and in TeamSpeak instructions).  In the "Player Name" box enter your callsign i.e. bgas001.
File a flight plan for each flight to get credit from WestCoast ATC.  They pay you, and Bluegrass in virtual dollars.  In the near future these dollars may be spent in a pilots store.  I'm not sure how it works, it may be in the form of discounts on Flight Sim related items.  Two of our pilots have already won prizes in the Holiday Promotion. 
On February 1st we begin the GAAR 2005 and we are going to invite all of those pilots to join us on WestCoastATC.  The result should be that you can tune in and find someone to fly with almost anytime. 
There are two rules that are important. 
1.  If you use FS 9 (2004) lock your frame rates at 20.   Click on Options…Settings…..Display….Hardware  and adjust the slider for "Target Frame Rate" to set 20.  This reduces the workload on the server.
Use TeamSpeak for communications.

 

Use the Multi-Player Chat Window only to open and close flight plans.

 

While there may only be a few pilots on our private channel, there could be up to 100 pilots flying on the server.

 

Aside from the annoyance of everyone seeing many messages zipping across the top of their windscreen, it is also a load on the server.

  
My headphones with a boom microphone cost about $25 and I paid about $6 for a "Y-adapter" cable so that my headphones and speakers are all plugged in at the same time.  If you have speakers, you can get by with a cheap clip on microphone.  (That's how I started out)  Even if you choose to fly "silently" you can use teamspeak to listen to the other pilots and you will know when the runway is clear, etc.
If you use the default kneepad in FS 9, click here to download a modification that lets you see the WestCoastATC FSHost page while you're flying.
Welcome to New Pilots
Serdar Badoglu bgad039
Jay Lamous bgad040
Grady Loyd bgak059
Bob Welch bgak060
Michael Magnus bgak061
Dan Wills bgak062
We are glad to have you with us, and look forward to reading your flight reports.
From the C.E.O.
I extend to all of you a Happy New Year!  I hope that it will bring you health and happiness.  My thanks to all the pilots for flying.  It wouldn't be any fun if no one showed up.  And many thanks to all who have worked behind the scenes in creating content for Bluegrass.  I am including a list, but apologize in advance for those who I have mistakenly left off.
Coleman Green  - Scenery – Painting - Panels
Bill Odell -  Tough Man Challenge #1,#2, Iditarod – Yukon Quest – Imperial Airways – Berlin Air Lift
Ron Jorgensen – Tough Man Challenge  #3,4,5,6,7,8,and 9
Rob Finn – Great Aussie Air Rally 2004 and 2005
Kevin Johnson – February 2004 Feature
Allan Lowson  - Imperial Airways
Norm Holman -  Imperial Airways
Chris Fry – Imperial Airways
Brent Brazeel – Pirpeps processing program.
Tim Pinkawa -  Setting up our forums.
In addition to the Bluegrass members above, we are indebted to hundreds of others for providing aircraft, panels, scenery, flight dynamics, publicity, and every imaginable kind of help.   Thank you all.
Just for an example, for GAAR 2004 here are a few of the credits
Real time Registration, Flight Reports and Scoring.   Created and Hosted by Todd Whitehead.
Logo Design by Dave W.
Award Certificates Designed and Distributed by Carl and Corry Phillips
Mark Smith Developed the kneepad addons for Flight Information and GAAR Map.
All of the following promoted GAAR 2004
Tom Gibson's California Classics
So, where do we go from here?   I'm always looking for new ideas.  Even better if you have any talent at writing, send me a "Feature of the Month"  You don't have to be a web-master, if I can read it with Word I can save it as a web-page.
That's all for now,
Bill Von Sennet
P.S.  You may have missed the reports showing how many pilots flew for each division and the hours.
We have a new page (links at the bottom of each roster) that list all the pilots that have flown, their hours, and the total hours for each division.    December 2004 Report
Don't forget to check out the forum and screen shot pages.  We need your screenshots!  They will stay on the web-site for one month.
Back Issues:     December 2004   November 2004   October 2004   September 2004   August 2004     July 2004    
June 2004    May 2004   April 2004   March 2004  February 2004    January 2004