<![if !vml]>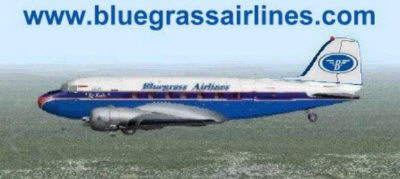 <![endif]>
November 2006 Newsletter
Feature of the Month
Historic 1944 Bluegrass Airlines by Bill Von Sennet
Welcome to New Pilots
| | |
| --- | --- |
| bgan041 | Bill Cox |
| bgan040 | Dan George |
| bgas058 | Allen Gale |
| bgan044 | Ian Robertson |
bgan041

Bill Cox

Virginia-US

First Officer

bgad042

Don Moore

Australia

Sr. Captain

bgak008

Peter McBeath

Scotland

First Officer

bgan044

Ian Robertson

UK

Captain

bgan048

john di benedetto

UK

First Officer

bgan049

tony di benedetto

Australia

Pilot

bgad023

Jim Gray

Australia

First Officer

bgan047

Paul Mensch

Netherlands

Sr.Captain

bgas009

Gryphon Rossi

FL-USA

First Officer

bgad039

Laurie Cooper

Australia

First Officer
Pilots flying in October 2006
Pilot

ID

Oct 2006 Hours

stumpy

 bgad004

12.28

Terry Howell

 bgad005

47.48

Ed Burke

 bgad011

58.75

Barry Theodore

 bgad012

6.58

John Lawler

 bgad017

6.63

Gayngel van den Ing

 bgad022

16.22

Jim Gray

 BGAD023

5.07

Serdar Badoglu

 BGAD025

1.45

Norm Holman

 bgad026

9.12

Smithy

 bgad032

8.73

Laurie Cooper

 bgad039

19.13

DON MOORE

 BGAD042

27.80

Terry Wright

 bgak007

12.73

Peter McBeath

 bgak008

12.93

Coleman Green

 bgak011

3.97

David R. Evans

 bgak015

10.92

PAT DALEY

 bgak029

5.55

Ron Jorgensen

 BGAK030

6.63

Tom Burrill

 bgak033

7.02

Paul van den Berg

 bgak036

10.47

Bob  Welch

 BGAK060

1.02

Leo Nascimento

 bgam003

12.12

Allan Lowson

 bgam007

1.75

Francisca Roele

 bgam011

2.28

Joe Weber

 BGAN002

17.57

John Franco

 BGAN011

20.92

Paul Roth

 BGAN016

6.52

Steve Whiting

 BGAN018

3.25

Achim

 bgan019

2.13

Luke

 BGAN021

14.65

Guy Goddard

 bgan023

2.12

Don Hulick

 bgan033

1.53

Meryl D Coon

 BGAN038

0.35

GEORGE LEACH

 BGAN039

31.83

Dan George

 BGAN040

6.68

Bill Cox

 bgan041

10.82

Ian Robertson

 bgan044

53.97

Paul Mensch

 BGAN047

8.03

john di benedetto

 BGAN048

1.00

tony di benedetto

 BGAN049

2.20

Bill Von Sennet

 bgas001

7.30

Henrique G. Wiederspahn

 bgas003

4.13

John Pate

 bgas008

4.00

Gryphon Rossi

 bgas009

14.47

Gary McCarty

 bgas031

160.98

Jim Urquhart

 BGAS041

129.05

Dean Johnson

 bgas044

1.77

Bill Hendrix

 bgas046

19.22

Tom

 bgas057

3.82

Allen Gale

 bgas058

4.03

Patrick Stewart

 bgas060

12.95

Total

851.92

<![if !supportMisalignedColumns]>
<![endif]>
WestCoastATC time for October 2006
0001z November 1st
| | | | | | |
| --- | --- | --- | --- | --- | --- |
| Pilot | ATC | FREE1 | FREE2 | FREE3 | Total |
| BGAN011 | 5.55 | 2.75 | | | 8.3 |
| BGAN047 | | 1.65 | | 0.4 | 2.05 |
| bgad004 | | 9.5 | | | 9.5 |
| bgad007 | | 0.65 | | 2.8 | 3.45 |
| bgad032 | | 6.05 | | | 6.05 |
| bgad042 | | 16.2 | 0.7 | 3.5 | 20.4 |
| bgak033 | | 4.55 | 1.2 | | 5.75 |
| bgas001 | | 2.55 | 0.9 | | 3.45 |
| bgas046 | 0.7 | 2.7 | | 3.45 | 6.85 |
| | | | | | |
| Total | | | | | 65.8 |
Pilots who do not log any time on WestCoastATC for two consecutive months will be removed from the bga profile at WestCoastATC.   If you want to be reactivated click "Join Virtual Airline" and select Bluegrass.  I'll put you back on the next time I log in.
From the C.E.O.
October has been a difficult month for me, health wise.  Which leads me to wonder: "What will happen to Bluegrass Airlines when I am no longer able to devote as much effort to it?"
Here are some of the jobs that need to be filled.
Screen shot coordinator.   Prepare the screenshots using irfanview and upload them to the server.  Only takes 10 minutes.
Flight Report coordinator.   Prepare the flight reports and put them in the excel spreadsheet.  Add the minutes to the roster for each pilot.  This requires about 20 minutes twice a week and about 30 minutes at the end of the month.  Tools needed:  Excel (a recent version that can save file as html)
Author.  Someone to write "Features of the Month" and this newsletter.  Tool needed:  Word (a recent version that can save file as html)
Don't forget to check out the forum and screen shot pages. 
That's all for now,
Bill Von Sennet
Back Issues: October 2006  September 2006    August 2006  July 2006   June 2006   May 2006