<![if !vml]>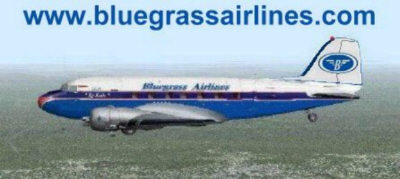 <![endif]>
February 2007 Newsletter
Feature of the Month
Welcome to New Pilots
| | |
| --- | --- |
| bgad035 | Sid Knapp |
| bgad031 | Andrew Godden |
| | | | |
| --- | --- | --- | --- |
| bgad031 | Andrew Godden | Australia | First Officer |
| bgad039 | Laurie Cooper | Australia | Captain |
Hours flown by Bluegrass Pilots in January 2007
| | | | | | | |
| --- | --- | --- | --- | --- | --- | --- |
| |  bgad004 | 17.9 | | Howard Crown |  bgam009 | 24.0 |
| Ed Burke |  bgad011 | 8.0 | | Joe Weber |  BGAN002 | 10.3 |
| John Lawler |  bgad017 | 13.0 | | Bob Beckelhimer |  BGAN005 | 188.4 |
| Gayngel van den Ing |  bgad022 | 3.8 | | George Adair |  bgan012 | 25.6 |
| Jim Gray |  BGAD023 | 14.6 | | Paul Roth |  BGAN016 | 3.7 |
| Norm Holman |  bgad026 | 44.5 | | Steve Whiting |  BGAN018 | 2.4 |
| Andrew Godden |  bgad031 | 12.0 | | Luke |  BGAN021 | 26.0 |
| Smithy |  bgad032 | 2.5 | | Guy Goddard |  bgan023 | 3.7 |
| John Gilbert |  bgad033 | 1.8 | | Don Hulic |  bgan033 | 5.5 |
| Sid Knapp |  BGAD035 | 2.8 | | Meryl D Coon |  BGAN038 | 10.2 |
| Don Flint |  BGAD037 | 12.9 | | GEORGE LEACH |  BGAN039 | 48.4 |
| laurie cooper |  bgad039 | 16.8 | | Dan George |  Bgan040 | 21.5 |
| DON MOORE |  BGAD042 | 16.6 | | Bill Cox |  bgan041 | 8.8 |
| Ray Brann |  bgak002 | 2.8 | | Tom Easterday |  BGAN043 | 3.7 |
| Terry Wright |  bgak007 | 22.2 | | Ian Robertson |  BGAN044 | 85.6 |
| Coleman Green |  bgak011 | 6.0 | | Paul Mensch |  BGAN047 | 8.5 |
| Joe Porter |  BGAK012 | 5.4 | | Richard G |  bgan050 | 29.2 |
| Edward Brunelle |  bgak013 | 73.0 | | Bill Von Sennet |  bgas001 | 8.0 |
| David R Evans |  bgak015 | 3.9 | | Henrique G. Wiederspahn |  bgas003 | 7.3 |
| PAT DALEY |  bgak029 | 5.6 | | John Pate |  bgas008 | 5.4 |
| Ron Jorgensen |  BGAK030 | 11.3 | | Gary McCarty |  bgas031 | 183.0 |
| Tom Burrill |  bgak033 | 8.0 | | Charles Wert |  bgas039 | 2.0 |
| Paul van den Berg |  bgak036 | 24.3 | | Jim Urquhart |  BGAS041 | 112.0 |
| Bob Welch |  BGAK060 | 1.9 | | Bill Hendrix |  bgas046 | 9.9 |
| Leo Nascimento |  bgam003 | 3.2 | | Allen Gale |  bgas058 | 1.0 |
| Allan Lowson |  bgam007 | 47.5 | | Patrick Stewart |  bgas060 | 1.0 |
WestCoastATC time for January 2007
<![if !vml]>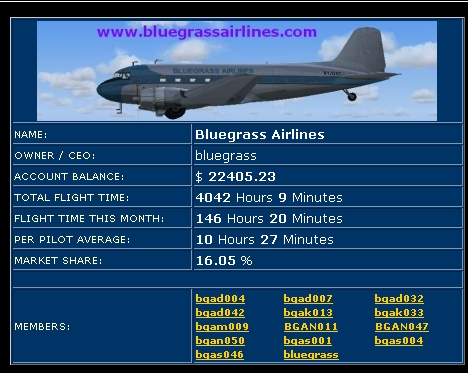 <![endif]>
<![if !vml]>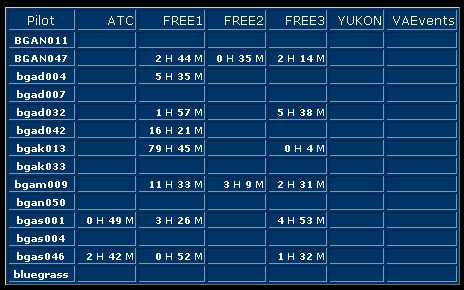 <![endif]>
Pilots who do not log any time on WestCoastATC for two consecutive months will be removed from the bga profile at WestCoastATC.   The purpose of this is to increase our average hours per pilot.  If you want to be reactivated click "Join Virtual Airline" and select Bluegrass.  I'll put you back on the next time I log in.
I've noticed some pilots are flying on WestCoastATC but have never clicked on "Join Virtual Airline" and associated their callsign with Bluegrass.   Also some pilots are flying, but not filing flightplans or using teamspeak.
From the C.E.O.
The Great Aussie Air Rally of 2007 is in full swing.   164 aircraft are registered.  If you didn't make it by registration cut-off date, you can still fly the flights and report them as regular flights.  The experience will make you a better pilot.  The rally this year is a challenge.
That's all for now,
Bill Von Sennet
Back Issues: January 2007  December 2006  November 2006  October 2006  September 2006    August 2006