<![if !vml]>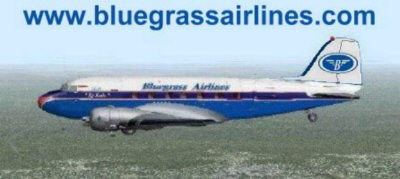 <![endif]>
November 2009 Newsletter
Feature of the Month
Across The Andes Ė by Allan Lowson
Pilot Hours in October
| | | | | | | |
| --- | --- | --- | --- | --- | --- | --- |
| Pilot#† | Name† | Home† | Hours | Position | Last PIREP | Oct. Hours |
| BGAD011 | Ed Burke | Australia | 2953.50 | ATP Captain | 22-Oct-09 | 5.82 |
| BGAD017 | John Lawler | - | 2242.30 | ATP Captain | 19-Oct-09 | 7.50 |
| BGAD022 | Gayngel van den Ing | - | 1887.25 | ATP Captain | 25-Oct-09 | 6.73 |
| BGAD035 | Sid Knapp | UK | 423.70 | Captain | 25-Oct-09 | 8.30 |
| BGAD039 | Laurie Cooper | Australia | 1326.38 | ATP Captain | 27-Oct-09 | 72.66 |
| BGAD056 | Darryl Starick | Australia | 3678.57 | ATP Captain | 29-Oct-09 | 114.20 |
| BGAD061 | Ian Hedrick | Australia | 21.85 | First Officer | 31-Oct-09 | 1.60 |
| BGAK011 | Coleman Green | Maryland-US | 1702.75 | ATP Captain | 15-Oct-09 | 5.15 |
| BGAK013 | Edward Brunelle | Massachussetts-US | 1937.87 | ATP Captain | 12-Oct-09 | 31.02 |
| BGAK015 | David R. Evans | Michigan-US | 1119.20 | ATP Captain | 31-Oct-09 | 13.03 |
| BGAK029 | Patrick Daley | - | 760.08 | Senior Captain | 13-Oct-09 | 3.33 |
| BGAK033 | Tom Burrill | - | 1069.83 | ATP Captain | 11-Oct-09 | 3.45 |
| BGAK077 | David Kingsley | New York-US | 576.93 | Senior Captain | 29-Oct-09 | 4.50 |
| BGAK078 | Kenneth Manwell | Florida-US | 256.82 | Captain | 19-Oct-09 | 10.94 |
| BGAK083 | Richard Peabody | Washington-US | 1.80 | Pilot | 14-Oct-09 | 1.80 |
| BGAM007 | Allan Lowson | Scotland | 1531.43 | ATP Captain | 26-Oct-09 | 9.83 |
| BGAN002 | Joe Weber | Indiana-US | 907.78 | Senior Captain | 31-Oct-09 | 6.21 |
| BGAN005 | Bob Beckelhimer | New Mexico-US | 2446.13 | ATP Captain | 30-Oct-09 | 104.50 |
| BGAN021 | Luke | Western Australia | 582.12 | Senior Captain | 6-Oct-09 | 4.62 |
| BGAN040 | Dan George | West Virginia-US | 637.38 | Senior Captain | 6-Oct-09 | 5.58 |
| BGAN041 | Bill Cox | Virginia-US | 625.98 | Senior Captain | 26-Oct-09 | 24.00 |
| BGAN047 | Paul Mensch | Netherlands | 1014.97 | ATP Captain | 11-Oct-09 | 2.39 |
| BGAN058 | Simon Dix | UK | 156.18 | Captain | 1-Oct-09 | 1.90 |
| BGAN063 | C R (Bud) Lane | Forida-US | 364.87 | Captain | 29-Oct-09 | 18.60 |
| BGAN070 | Allen Peterson | Idaho-US | 204.93 | Captain | 17-Oct-09 | 9.55 |
| BGAN071 | William Lockwood | Nebraska-US | 583.47 | Senior Captain | 31-Oct-09 | 50.40 |
| BGAN075 | Butch Kuhn | Connecticut-US | 4.23 | Pilot | 27-Oct-09 | 4.23 |
| BGAN076 | Lou Ross | Mexico | 19.78 | First Officer | 29-Oct-09 | 19.78 |
| BGAS001 | Bill Von Sennet | Pennsylvania-US | 3323.23 | ATP Captain | 29-Oct-09 | 67.83 |
| BGAS031 | Gary McCarty | - | 12134.57 | ATP Captain | 4-Oct-09 | 3.77 |
| BGAS046 | Bill Hendrix | Florida-US | 1401.77 | ATP Captain | 29-Oct-09 | 7.89 |
| BGAS058 | Allen Gale | Georgia-US | 48.30 | First Officer | 12-Oct-09 | 1.00 |
| BGAS070 | Brett Holcomb | South Carolina-USA | 42.95 | First Officer | 12-Oct-09 | 6.10 |
| | | | | | | |
| | | | | Total October Hours | | 638.21 |
New Pilots
| | | | | |
| --- | --- | --- | --- | --- |
| Pilot # | Pilot | Home | Hours | Rank |
| BGAK082 | Joost Scheffer | The Netherlands | 0.00 | Pilot |
| BGAK083 | Richard Peabody | Washington-US | 1.80 | Pilot |
| BGAN075 | Butch Kuhn | Connecticut-US | 4.23 | Pilot |
| BGAN076 | Lou Ross | Mexico | 19.78 | First Officer |
| BGAN077 | Richard Baum | Pennsylvania-US | 0.00 | Pilot |
Pilots with Promotions
| | | | | |
| --- | --- | --- | --- | --- |
| Pilot # | Pilot | Home | Hours | New Rank |
| BGAN076 | Lou Ross | Mexico | 19.78 | First Officer |
Bluegrass Activity on West Coast ATC
<![if !vml]>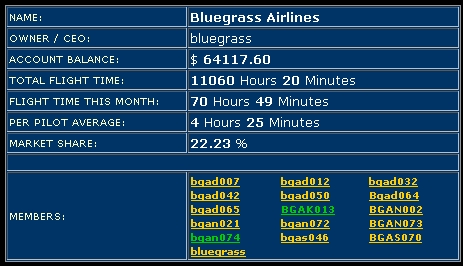 <![endif]>
<![if !vml]>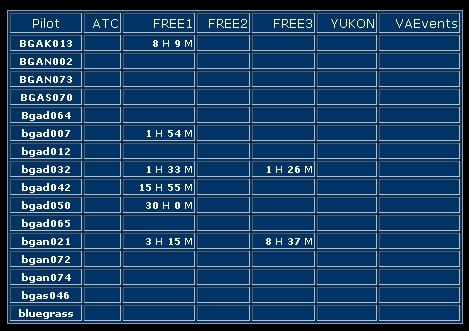 <![endif]>
DC-3 Airways World Rally 2009
Bluegrass pilots have been invited to participate.† There will be 10 flights all over the world. Starting on November 14th and concluding on December 11th .†† The Douglas DC-3 is the only aircraft permitted.
For more information go to www.dc3airways.com and click on the WR2009 link on the top menu bar.† You may sign up immediately, and flight information will be available on November 7th.
I would like to see a large turnout of Bluegrass pilots, as DC-3 Airways pilots make up a large contingent of participants in our annual Great Aussie Air Rally.
Donít forget to check out the forum and add your 3 cents.
Thatís all for now,
Bill Von Sennet† e-mail† billy[at]billvons.com††† Replace the [at] with a @
.
Back Issues: ††† October 2009† September 2009† August 2009† July 2009 June 2009† May 2009†
†