<![if !vml]>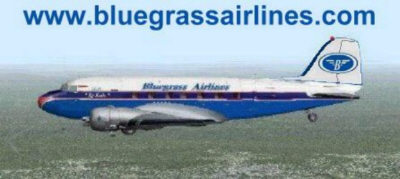 <![endif]>
May 2010 Newsletter
Pilot Hours in April
| | | | | | | |
| --- | --- | --- | --- | --- | --- | --- |
| Pilot#† | Name† | Home† | Flight Hours | Position | Last PIREP | April Hours |
| BGAD002 | Brian Wilson | Australia | 2991.87 | ATP Captain | 21-Apr-10 | 44.7 |
| BGAD011 | Ed Burke | Australia | 3017.92 | ATP Captain | 30-Apr-10 | 7.55 |
| BGAD017 | John Lawler | - | 2295.67 | ATP Captain | 22-Apr-10 | 5.85 |
| BGAD022 | Gayngel van den Ing | - | 2087.63 | ATP Captain | 16-Apr-10 | 28.41 |
| BGAD026 | Norm Holman | - | 1649.75 | ATP Captain | 28-Apr-10 | 126 |
| BGAD035 | Sid Knapp | UK | 477.45 | Captain | 20-Apr-10 | 10.92 |
| BGAD039 | Laurie Cooper | Australia | 1510.87 | ATP Captain | 25-Apr-10 | 49.65 |
| BGAD056 | Darryl Starick | Australia | 4321.47 | ATP Captain | 29-Apr-10 | 99.2 |
| BGAD061 | Ian Hedrick | Australia | 25.15 | First Officer | 2-Apr-10 | 1.85 |
| BGAK011 | Coleman Green | Maryland-US | 1725.9 | ATP Captain | 5-Apr-10 | 4.8 |
| BGAK013 | Edward Brunelle | Massachussetts-US | 2280.47 | ATP Captain | 30-Apr-10 | 114.12 |
| BGAK015 | David R. Evans | Michigan-US | 1255.32 | ATP Captain | 30-Apr-10 | 29.45 |
| BGAK083 | Richard Peabody | Washington-US | 140.37 | Captain | 26-Apr-10 | 12.15 |
| BGAN002 | Joe Weber | Indiana-US | 945.55 | Senior Captain | 28-Apr-10 | 5.68 |
| BGAN005 | Bob Beckelhimer | New Mexico-US | 2850.27 | ATP Captain | 5-Apr-10 | 36.42 |
| BGAN012 | George W.S. Adair | Manitoba-CDN | 476.67 | Captain | 1-Apr-10 | 10.45 |
| BGAN040 | Dan George | West Virginia-US | 840.2 | Senior Captain | 29-Apr-10 | 15.08 |
| BGAN041 | Bill Cox | Virginia-US | 739.67 | Senior Captain | 27-Apr-10 | 11.97 |
| BGAN047 | Paul Mensch | Netherlands | 1089.93 | ATP Captain | 16-Apr-10 | 32.65 |
| BGAN063 | C R (Bud) Lane | Forida-US | 527.33 | Senior Captain | 30-Apr-10 | 27.41 |
| BGAN071 | William Lockwood | Nebraska-US | 897.35 | Senior Captain | 30-Apr-10 | 32.07 |
| BGAN075 | Butch Kuhn | Connecticut-US | 109.43 | Captain | 16-Apr-10 | 20.85 |
| BGAN076 | Lou Ross | Mexico | 220.75 | Captain | 30-Apr-10 | 54.35 |
| BGAS001 | Bill Von Sennet | Pennsylvania-US | 3517.32 | ATP Captain | 29-Apr-10 | 37.37 |
| BGAS039 | Charles Wert | - | 203.32 | Captain | 25-Apr-10 | 0.79 |
| BGAS046 | Bill Hendrix | Florida-US | 1434.57 | ATP Captain | 19-Apr-10 | 1.89 |
| | | | | | | |
| | | | | Total April Hours | | 821.63 |
Welcome to New Pilots
| | | | | |
| --- | --- | --- | --- | --- |
| Pilot#† | Name† | Home† | Flight Hours | Position |
| BGAK087 | Bill Dempster | UK | 0 | Pilot |
Congratulations to Pilots with Promotions
| | | | | |
| --- | --- | --- | --- | --- |
| Pilot#† | Name† | Home† | Flight Hours | New Rank |
| BGAN063 | C R (Bud) Lane | Forida-US | 527.33 | Senior Captain |
| BGAN075 | Butch Kuhn | Connecticut-US | 109.43 | Captain |
On-Line Flying at WestCoast ATC
<![if !vml]>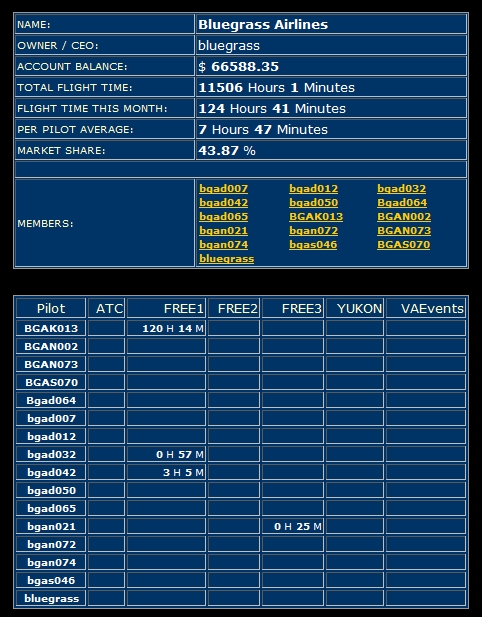 <![endif]>
Last month I mentioned that our partnership with WestCoastATC may be coming to an end, and ask that anyone flying with IVAO or VATSIM should mention it in their pireps.†† After one month the tally is three pilots flew 8 flights with VATSIM.† Keep the reports coming.† I think we need five pilots signed up with VATSIM to become a member airline.
Donít forget to check out the forum and add your 3 cents.
There isn't a feature this month, but there are some changes being made to the Imperial Airlines routes.† Check out the links at the bottom of the first page.† FSX European Route and the Atlantic Flying Boat Route from England to New York via Montreal.† More changes will be coming next month.†
I will be out of the office this month, but will attempt to update the view pireps page via a laptop and wifi connections on my travels.
Thatís all for now,
Bill Von Sennet† e-mail† billy[at]billvons.com††† Replace the [at] with a @
.
Back Issues:††† April 2010 †March 2010†† February 2010†† January 2010†
†