<![if !vml]>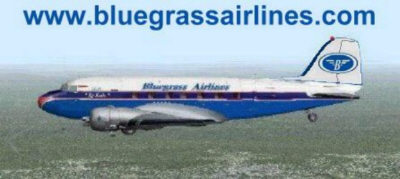 <![endif]>
July 2011
Feature of the Month
Pilot's Hours in June
| | | | | | | |
| --- | --- | --- | --- | --- | --- | --- |
| Pilot# | Name | Home | Flight Hours | Position | Last PIREP | June Hours |
| BGAD011 | Ed Burke | Australia | 3278.27 | ATP Captain | 24-Jun-11 | 16.99 |
| BGAD017 | John Lawler | United Kingdom | 2430.08 | ATP Captain | 19-Jun-11 | 4.8 |
| BGAD022 | Gayngel van den Ing | - | 2438.2 | ATP Captain | 23-Jun-11 | 50.53 |
| BGAD039 | Laurie Cooper | Australia | 2253.98 | ATP Captain | 28-Jun-11 | 25.56 |
| BGAD042 | Don Moore | Australia | 1651.3 | ATP Captain | 29-Jun-11 | 12.15 |
| BGAD056 | Darryl Starick | Australia | 4898.98 | ATP Captain | 29-Jun-11 | 19.96 |
| BGAD072 | Richard Willett | Ohio-USA | 2458 | ATP Captain | 21-Jun-11 | 301 |
| BGAK033 | Tom Burrill | - | 1119.53 | ATP Captain | 23-Jun-11 | 3.3 |
| BGAK077 | David Kingsley | New York-US | 1211.73 | ATP Captain | 1-Jul-11 | 79.81 |
| BGAK083 | Richard Peabody | Washington-US | 635 | Senior Captain | 30-Jun-11 | 47.53 |
| BGAN076 | Lou Ross | Mexico | 554.33 | Senior Captain | 24-Jun-11 | 32.73 |
| BGAK092 | Euan Galloway | Scotland | 0 | Pilot | 21-Jun-11 | 0 |
| BGAN085 | James Phillips | USA | 14.17 | First Officer | 3-Jun-11 | 11.67 |
| BGAK036 | Paul van den Berg | - | 1004.77 | ATP Captain | 24-Jun-11 | 40.74 |
| BGAN063 | C R (Bud) Lane | Forida-US | 1002.37 | ATP Captain | 30-Jun-11 | 31.79 |
| BGAS068 | Spud Wightman | South Carolina-USA | 504.63 | Senior Captain | 12-Jun-11 | 11.7 |
| BGAK078 | Kenneth Manwell | Florida-US | 304.9 | Captain | 26-Jun-11 | 8.48 |
| BGAN002 | Joe Weber | Indiana-US | 1051.92 | ATP Captain | 26-Jun-11 | 0.95 |
| BGAN005 | Bob Beckelhimer | Ohio-US | 3595.8 | ATP Captain | 17-Jun-11 | 65.37 |
| BGAN040 | Dan George | West Virginia-US | 1064.87 | ATP Captain | 30-Jun-11 | 13.34 |
| BGAN041 | Bill Cox | Virginia-US | 1115.92 | ATP Captain | 24-Jun-11 | 31.49 |
| BGAN071 | William Lockwood | Nebraska-US | 1471.4 | ATP Captain | 18-Jun-11 | 7.7 |
| BGAN082 | Charles Flock | California-US | 251.8 | Captain | 10-Jun-11 | 10.82 |
| BGAN083 | Bill Baracaia | Pennsylvania-US | 211.2 | Captain | 7-Jun-11 | 4.62 |
| BGAS001 | Bill Von Sennet | Pennsylvania-US | 3935.68 | ATP Captain | 4-Jun-11 | 1.98 |
| BGAS046 | Bill Hendrix | Florida-US | 1559.32 | ATP Captain | 15-Jun-11 | 7.62 |
| | | | | Total Hours in June | | 842.63 |
Congratulations to Pilots with Promotions
| | | | | | |
| --- | --- | --- | --- | --- | --- |
| Pilot# | Name | Home | Flight Hours | New Rank | Last PIREP |
| BGAN085 | James Phillips | USA | 14.17 | First Officer | 3-Jun-11 |
| BGAK036 | Paul van den Berg | - | 1004.77 | ATP Captain | 24-Jun-11 |
| BGAN063 | C R (Bud) Lane | Forida-US | 1002.37 | ATP Captain | 30-Jun-11 |
| BGAS068 | Spud Wightman | South Carolina-USA | 504.63 | Senior Captain | 12-Jun-11 |
Welcome to New Pilot
| | | | | |
| --- | --- | --- | --- | --- |
| Pilot# | Name | Home | Flight Hours | Position |
| BGAK092 | Euan Galloway | Scotland | 0 | Pilot |
June Hours on WestCoast ATC
<![if !vml]>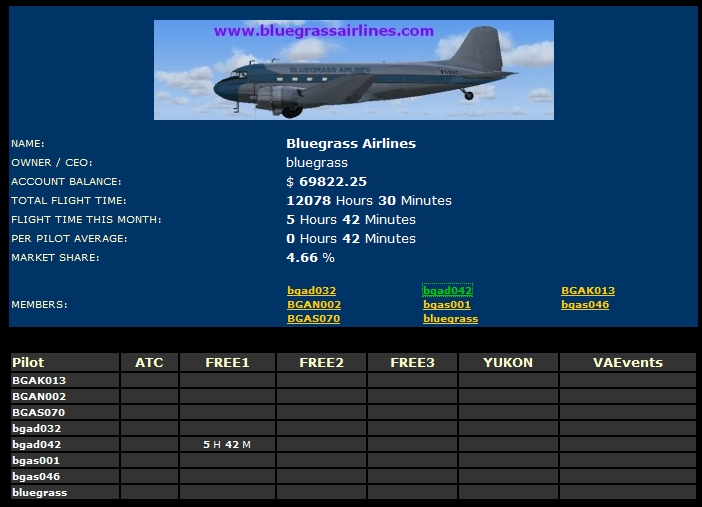 <![endif]>
A farewell from Bill Von Sennet
I have been involved with Bluegrass Airlines for over 12 years.† First as a pilot, then as the Carribbean Hub Captain, then as Director of the Southern Division and finally as the C.E.O. when W. Joe Deering decided to retire.†† Now its my turn.† As I approach 70 years of age, I find that my interest in Flight Sim is decreasing.† I would enjoy sitting back and flying an occasional flight and let someone else take over as C.E.O.†
Effective July 1st 2011 Allan Lowson is the C.E.O.† He has been a huge help by creating the Monthly Features for some time now.
Andrew Godden the Director of the Australian Division has also been a great help by taking over the Great Aussie Air Rally and now expanding to the Great Air Rally Grand Prix.
One of my failings has been the inability to delegate some of my functions to some of our pilots.†† As I take a back seat, this would be a good opportunity for some of you to step up and help Allan.
As this will be my last newsletter we could use a new editor.† All thats needed is Word and Excel to save documents as web pages.† I can provide all of the other tools (actually links where you can download them)
The other job is to create the "view pireps" page.†† Each posting requires about 5 minutes.
Thank you for being a part of Bluegrass Airlines.† Without you it wouldn't be here.
Donít forget to check out the forum and add your 3 cents.
Bill Von Sennet† e-mail† billy[at]billvons.com††† Replace the [at] with a @† †††††††††††††††††† ††††††† I will forward any mail that should be directed to Allan Lowson
Back Issues June 2011†† May 2011† April 2011 March 2011 February 2011 January 2011††