Feature of the Month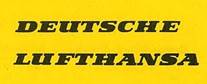 Our feature this month is the relatively short-lived Deutsche Lufthansa of the DDR. This airline only lasted a few years before the DDR were forced to stop using the Lufthansa name, which was also being used by the airline of West Germany, and changed to calling their airline Interflug.
This is available here: Deutsche Lufthansa
In addition, we have a hoplist around airfields in the former East Germany.
The link is here: East Germany Hop
Donít forget to check out the forum and add your 3 cents.