Wings of Alaska Fall Schedule '07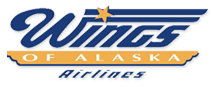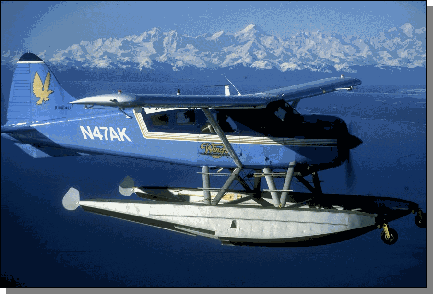 Photo Credit Wings of Alaska
As it is seventy-five years since the first flight of the de Havilland DHC-2 Beaver, this feature covers the use of the de Havilland Beaver and Otter floatplanes by Wings of Alaska in their 2007 Fall schedule for south-east Alaska. Wings of Alaska ceased operation in 2017.
Wings of Alaska
The following is drawn from Wings of Alaska's website before closure of the airline:
" Wings of Alaska is the premier airline serving Southeast Alaska. We provide scheduled passenger service, fast freight and charter service throughout Northern Southeast Alaska with frequent flights each day between Juneau and Skagway, Haines, Hoonah, and Gustavus.
If you're a visitor you'll want to fly with Wings to the historic city of Skagway – Alaska's gateway to the gold rush. Or choose Wings to view the eagles or enjoy the great fishing along Haines' Chilkat River. We'll fly you to Gustavus, the entry point to Alaska's spectacular Glacier Bay. And we'll help you experience the history and wonder of Alaska's Native village of Hoonah.
If you're a local, you already know that Wings of Alaska is the most reliable way to reach Juneau and other Southeast communities. As a member of the Medallion Foundation Safety Program we've earned our stars for our commitment to Alaska's premier airline safety program. "
De Havilland Beaver & Otter Floatplanes
The de Havilland Canada DHC-2 Beaver is one of the most famous bush planes in the world. After World War II, de Havilland Canada was looking to produce a plane suited to operations in the extremes of the Canadian north.
The Beaver has become a symbol of the Canadian north, and has since found use as a bush plane all over the world; the international ICAO designation for flight plans is DHC2. The type is used for aerial application; (crop dusting and aerial topdressing), and has been widely used by armed forces as a utility aircraft; the U.S. Army Air Corps purchased several hundred. Nine DHC-2s are still in service with the US Air Force Auxiliary (Civil Air Patrol) for search and rescue. A Royal New Zealand Air Force Beaver supported Sir Edmund Hillary's expedition to the South Pole.
After extensive consultation with bush pilots, they began production of the Beaver - a reliable, single-engine monoplane that could be easily fitted with wheels, skis, or floats. The Beaver was designed for flight in rugged and remote areas of the world. Its short takeoff and landing capability made it ideal for areas normally only accessible by canoe or foot. Because it often flies to remote locations (that often are in cold climates) its oil reservoir filling spout is located in the cockpit itself and the oil can be refilled while the aircraft is in flight. The first flight of the DHC Beaver was in Downsview, Ontario by Second World War flying ace Russ Bannock on 16 August 1947, with the first production aircraft being delivered in April 1948. The plane was an immediate success within the Canadian aviation community. The de Havilland company hired veteran bush pilot Punch Dickins as their Director of Sales and when production finally ceased in 1967, 1,657 DHC-2 Beavers had been built.
Despite the fact that production ceased in 1967, hundreds of Beavers are still flying—many of them heavily modified to adapt to changes in technology and needs. Kenmore Air of Kenmore, Washington zero-hours Beaver and Otter airframes and owns dozens of supplemental type certificates (STCs) for aircraft modifications. These modifications are so well-known and desirable in the aviation community that the rebuilt Beavers are often called "Kenmore Beavers" or listed as having "Kenmore mods" installed.
The United States military continues to operate two DHC-2s at the United States Naval Test Pilot School, where they are used to instruct students in the evaluation of lateral-directional flying qualities and to tow gliders.
The DHC-2 Beaver is sometimes used by skydiving operators due to its very high rate of climb. When fitted with a roller door that can be opened in flight, it can quickly ferry eight skydivers to 13,000 ft (3,950 m).
At one point in its production, plans to license build the type in New Zealand were proposed. Although there have been rumours of Canadian companies manufacturing new Beavers, it remains an out-of-production aircraft. The remaining tooling was purchased by Viking Air of Victoria, Canada which manufactures replacement parts for most of the early de Havilland line. On February 24, 2006, Viking purchased the type certificates from Bombardier Aerospace for all the original de Havilland designs. The ownership of the certificates gives Viking the exclusive right to manufacture new Beavers.
In a news report on 4 April 2007 (www.flightglobal.com), Victoria, British Columbia-based Viking said it may restart production of the single engine DHC-3 Otter and possibly the DHC-2 Beaver following strong market demand for both aircraft.
In 1987, the Canadian Engineering Centennial Board named the DHC-2 Beaver as one of the top ten Canadian engineering achievements of the 20th century.
Due to this success, the Royal Canadian Mint commemorated the Beaver on a special edition Canadian quarter in November 1999.
Wings of Alaska have two Beavers for sale at the moment, including the one featured in the top photograph, so if you have $350,000 to spare and a hankering to fly Alaska for real, I'm sure they would be delighted to hear from you.
The de Havilland Canada DHC-3 Otter is a single engined, high wing, propeller-driven, STOL aircraft developed by de Havilland Canada. It was conceived to be capable of performing the same roles as the earlier and highly successful Beaver, but was overall a larger plane.
When de Havilland Canada began design work on the King Beaver (the Otter's original name) in January 1951, it was trying to extend the company's line of rugged STOL utility transports that had begun with the earlier and highly successful Beaver. The single engined, high wing, propeller-driven DHC-3 Otter was conceived to be capable of performing the same roles as the Beaver, but was considerably larger, the veritable "one-ton truck" (in company parlance- the Beaver was the "half-ton truck").
Using the same overall configuration of the earlier and highly successful DHC2 Beaver, the new design incorporated a longer fuselage, greater span wings and was much heavier. Seating in the main cabin is for 10 or 11, whereas the Beaver could seat six. Power is supplied by a 450kW (600 hp) Pratt & Whitney R1340 Wasp radial. Like the Beaver, the Otter can be fitted with skis and floats. The amphibious floatplane Otter features a unique four unit retractable undercarriage, with the wheels retracting into the floats. The Otter served as the basis for the very successful Twin Otter which featured two wing mounted Pratt and Whitney PT-6 turboprops.
The Otter received Canadian certification in November 1952 and entered production shortly after.
Although the Otter found ready acceptance in bush airlines, as in a similar scenario to the DHC-2 Beaver, the US Army soon became the largest operator of the aircraft (184 delivered with the designation U-1A Otter). Other military users included Australia, Canada and India but the primary role of the aircraft as a rugged bush plane continues to this day.
The Otter is also a popular airplane among the general aviation (non-military) parachuting community and can be found in many dropzones throughout the world.
Some aircraft were converted to turbine power using a Pratt & Whitney Canada PT6A turboprop, including the aircraft operated by Wings of Alaska. The Walter 601 Turboprop engine, manufactured in the Czech Republic, or the Garrett/Honeywell TPE331-10 engine by Texas Turbine Conversions may also be fitted to the Otter. A Polish Pezetel radial engine has also been fitted to the Otter. Re-engined aircraft have been offered since the 1980s by Airtech Canada as the DHC-3/1000 using current-production PZL ASz-62IR radial engines of 1,000 hp (745 kW) .
Most of the above came from Wikipedia.
Wings of Alaska Routes in South East Alaska
These routes were taken from the Wings of Alaska website for the fall period. These floatplane bases are all present in the Glacier Bay freeware scenery, which is well worth the download effort. Gustavus has a pier but not a seaplane identifier, so use an amphibious plane if you're heading for PAGS.
Juneau to Gustavus
Heading

Distance

Seaplane Base Name

ICAO

Heading

Distance

253

0

Juneau

5Z1

-

41

-

41

Gustavus - Use Amphibious Planes

PAGS

72

0

Juneau Flight Departure

0900

0925

81 Daily except Sunday

Gustavus Flight Departure

0935

1000

82 Daily except Sunday
Juneau to Haines
Heading

Distance

Seaplane Base Name

ICAO

Heading

Distance

303

0

Juneau

5Z1

-

65

-

65

Haines

3Z9

121

0

Juneau Flight Departure

0745

0820

31 Daily

1030

1105

33 Daily

1400

1435

35 Daily

Haines Flight Departure

0830

0905

32 except Sunday

0920

0955

32 Sunday only

1205

1240

34 Daily

1450

1525

36 Daily
Juneau to Hoonah
Heading

Distance

Seaplane Base Name

ICAO

Heading

Distance

223

0

Juneau

5Z1

-

34

-

34

Hoonah

OOH

043

0

Juneau Flight Departure

0750

0810

11 except Sunday

1015

1035

15 Daily

1200

1220

17 Daily

1430

1450

19 Daily

Hoonah Flight Departure

0820

0840

12 except Sunday

1045

1105

16 Daily

1230

1250

18 Daily

1500

1520

20 Daily
Juneau to Skagway – via Haines
Heading

Distance

Seaplane Base Name

ICAO

Heading

Distance

0

Juneau

5Z1

-

74

-

74

Skagway

7K2

0

Juneau Flight Departure – via Haines

0745

0825

31 except Sunday

0745

0845

31 Sunday only

1030

1130

33 Daily

1350

1430

35 Daily

Skagway Flight Departure – via Haines

0835

0915

32 except Sunday

0855

0955

32 Sunday only

1140

1240

34 Daily

1440

1520

36 Daily
Haines to Skagway
Heading

Distance

Seaplane Base Name

ICAO

Heading

Distance

347

0

Haines

3Z9

-

13

-

13

Skagway

7K2

167

0

Haines Flight Departure

1115

1130

33 Daily

Skagway Flight Departure

1155

1210

34 Daily
Airport Info
At the base of grand mountain peaks and at the pristine waterfront of the Gastineau Channel is Juneau, known as "Alaska's Peak Experience" Alaska's capital city, Juneau is located in Southeast Alaska. The Tongass Rainforest climate provides Juneau with lush terrain and vibrant wildflowers.

Early settlers included miners during Alaska's gold rush and Russian fur traders. The Tlingit and Haida Indians were the first settlers to the area and Native Alaska influence is prominent in Juneau today.
Since Gustavus is located on a peninsula, with Glacier Bay National Park surrounding the town from the landside, there are no roads that will get you there. But like many places in Southeast Alaska, that's part of the community's magic.

Once you arrive in Gustavus, however, there is road that goes from the airport to the lodge at Glacier Bay park, with several smaller roads branching off. The main road is about 75 percent paved, while the rest of all the connecting roads are dirt.
Skagway is a place of many names, much history and little rain. The town lies at the head of the magnificent Lynn Canal and, at one time or another, has been called Skaguay, Shkagway and Gateway to the Golden Interior.

It is also known as the Home of the North Wind, and residents tell visitors that it blows so much here you'll never breathe the same air twice. It lies 108 road miles south of Whitehorse, just west of the Canadian border at British Columbia
Haines, in the northern reaches of the Inside Passage, is an important access point to the Yukon Territory and Interior Alaska. Haines has spectacular scenery, comparatively dry weather and is accessible to the rest of the state by road system. By road, it is 775 miles from Anchorage.
Hoonah is the principal village for the Huna, a Tlingit tribe that has occupied the Glacier Bay/Icy Strait area since prehistory. Local history tells of an original ancestral home in Glacier Bay that was destroyed by a glacial advance. Hoonah means "village by the cliff."
Flight Simulator Files
The de Havilland DHC-2 Beaver is available in both freeware and payware. There is a payware model by Aerosoft and it includes wheeled, float and amphibious models. It is available from them at www.aerosoft.com
The DHC-2 Beaver is also available from www.avsim.com and www.flightsim.com as freeware by John Woodward in both float and wheeled models as beaver_floats_2005.zip and beaver_wheels_2005.zip. A Wings of Alaska repaint for the Woodward Beaver is included in woapackage.zip. A 2D panel for the Beaver can be installed for fs2004 using bvr_pnls.zip and bvr_pnls_2005_config.zip.
The de Havilland DHC-3 Otter is available in turbine-engined form by Eugene Heyart at www.avsim.com and www.flightsim.com in otterttc.zip. A 1,000HP PZL radial conversion of the Otter is also available by Eugene in amphibious form in otterpzl.zip. A repaint of the turbine Otter is available as wingsdhc3.zip. For those with an aversion to turbines, this can also be applied to the PZL model.
A freeware scenery package for the Glacier Bay area from Skagway to Juneau is available from www.avsim.com and www.flightsim.com in the following two download files, glbayv2a.zip and glbayv2b.zip.
Airfield Map