Inter - Island Airways '35
<![if !vml]>

<![endif]>
The times for these flights are taken from the 1935 timetable for Inter-Island Airways available at the excellent www.timetableimages.com.
Inter-Island Airways operated between the Hawaiian Islands from 1929 using amphibious aircraft. The choice of amphibious aircraft was not due to the lack of airfields but the desire to give passengers comfort that the aircraft could land on water between the islands in case of problems with the aircraft.
In 1935 these services were provided using Sikorsky S-38 aircraft. The next year saw the introduction of airmail services and these enabled the use of the larger S-43 amphibious aircraft as well as the S-38s.
In October 1941 the airline changed name to Hawaiian Airlines and continues to operate today.
The following routes were all flown by Sikorsky S-38s.
Honolulu
–
Hilo Route
(Daily except Sun)
| | | | | | |
| --- | --- | --- | --- | --- | --- |
| Heading | Distance | City Name | ICAO | Heading | Distance |
| 091 |         0 | Honolulu | PHNL | | 47.2 nm |
| 149 | 47.2 nm | Molokai | PHMK | 271 | 23.5 nm |
| 066 | 23.5 nm | Lanai | PHNY | 329 | 30.0 nm |
| 129 | 30.0 nm | Maui | PHOG | 246 | 49.7 nm |
| 115 | 49.7 nm | Upolu | PHUP | 309 | 56.2 nm |
| | 56.2 nm | Hilo | PHTO | 295 |         0 |
Honolulu
–
Kauai – (Mon Thu & Sat
)
| | | | | | |
| --- | --- | --- | --- | --- | --- |
| Heading | Distance | City Name | ICAO | Heading | Distance |
| 286 |         0 | Honolulu | PHNL | | 88.2 nm |
| 241 | 88.2 nm | Lihue | PHLI | 105 | 15.5 nm |
| | 15.5 nm | Port Allen | PAK | 061 |         0 |
Honolulu
–
Kauai – (Tue Wed & Fri
)
| | | | | | |
| --- | --- | --- | --- | --- | --- |
| Heading | Distance | City Name | ICAO | Heading | Distance |
| 286 |         0 | Honolulu | PHNL | | 88.2 nm |
| | 88.2 nm | Lihue | PHLI | 105 |       0 |
<![if !vml]>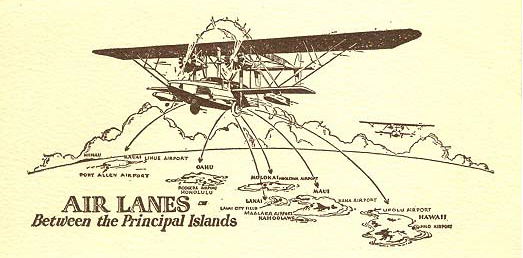 <![endif]>
Flight Simulator Files
There is a Sikorsky S-38 available in s38molo4.zip for FS2004 and sikorskys38_fsx_update.zip for FSX from www.flightsim.com