<![if !vml]>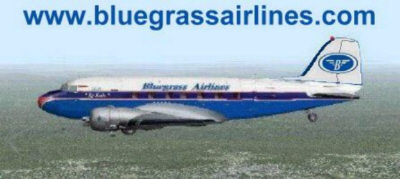 <![endif]>
February 2005 Newsletter
Features of the Month
The Great Aussie Air Rally 2005 is under way!† We have 277 pilots registered.† They represent 53 Virtual Airlines and come from 26 countries.† They are flying 109 different aircraft.† This is the 4th annual Great Aussie event and we owe its success to the cooperation of our many friends in the flightsimming world.† Without DC-3 Airways it would be much smaller.† Many web-sites have promoted G.A.A.R. 2005.† 45 Bluegrass pilots are registered. (some appear on the roster as flying for another V.A.)† 59 DC-3 Airways pilots have signed up.† (Some of these are also Bluegrass pilots)
†
Australian Division
John Thorne has taken the responsibility of becoming the Australian Division Director.† I ask that all of our pilots give him a warm welcome and assist him in any way they can.
Multi-Player Flying
We are well established at West Coast ATC, and have 16 Bluegrass pilots signed up, along with 17 G.A.A.R. pilots.
If you havenít signed up yet, read last months newsletter for details January 2005 News.
Welcome to New Pilots
John Thorne bgad001
Don Moore bgad042
Maurie King bgad043
Laurence Kellie bgak002
Jeffrey Lacy bgak063
Joe Weber bgan002
We are glad to have you with us, and look forward to reading your flight reports.
From the C.E.O.
Our web-site had 7,578 visits last month.† I wonít bother telling you how many ďhitsĒ we had, that number is meaningless.† One of the several hundred visitors who stayed around for over an hour may have viewed over a thousand pages or images.† The number of visits is more relevant to get a picture of how popular the site is. Over 184 different sites sent visitors our way.† Many of these were forums and virtual airlines directing their pilots to the gaar.
As members of the flightsim community we should return the favor and visit some of the other virtual airlineís.† Many of those participating in gaar have links on the credits page.
Also check the links on our links page.† Flightsim.com, Tom Gibsonís California Classics †
and Tony Smithís MSFS Gateway have been a big help to us in expanding the gaar every year.
Thatís all for now,
Bill Von Sennet
P.S.† You may have missed the reports showing how many pilots flew for each division and the hours.
We have a new page (links at the bottom of each roster) that list all the pilots that have flown, their hours, and the total hours for each division.††† January 2005 Report
Donít forget to check out the forum and screen shot pages.† We need your screenshots!† They will stay on the web-site for one month.
Back Issues:† ††††January 2005††† December 2004†† November 2004† †October 2004 ††September 2004†† August 2004 ††††
July 2004 †††June 2004 †††May 2004†† April 2004†† March 2004† February 2004†††