<![if !vml]>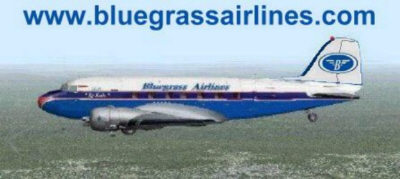 <![endif]>
December 2006 Newsletter
Feature of the Month
KNILM and the Douglas DC-5 by Allan Lowson
Welcome to New Pilots
| | |
| --- | --- |
| bgan037 | Andrew |
| bgak062 | Jeremy |
| bgam009 | Howard Crown |
| | | | |
| --- | --- | --- | --- |
| bgan040 | Dan George | West Virginia-US | First Officer |
Pilots flying in November 2006
| | | |
| --- | --- | --- |
| Pilot | ID | Hours |
| STUMPY |  BGAD004 | 9.23 |
| Terry Howell |  bgad005 | 15.35 |
| Ed Burke |  bgad011 | 12.97 |
| DAVID BOWEN |  BGAD021 | 2.58 |
| Gayngel van den Ing |  bgad022 | 16.08 |
| Jim Gray |  BGAD023 | 11.52 |
| Norm Holman |  bgad026 | 29.08 |
| Smithy |  bgad032 | 13.80 |
| Don Flint |  BGAD037 | 5.97 |
| Laurie Cooper |  bgad039 | 27.43 |
| DON MOORE |  BGAD042 | 10.72 |
| Brent Brazeel |  bgak001 | 45.93 |
| Terry Wright |  bgak007 | 8.93 |
| Peter McBeath |  bgak008 | 8.58 |
| Coleman Green |  bgak011 | 2.20 |
| David R. Evans |  bgak015 | 4.58 |
| Pat Daley |  bgak029 | 5.45 |
| RonJorgensen |  BGAK030 | 20.20 |
| Tom Burrill |  bgak033 | 9.82 |
| Paul van den Berg |  bgak036 | 7.50 |
| Bob Welch |  BGAK060 | 1.68 |
| Leo Nascimento |  bgam003 | 5.08 |
| Allan Lowson |  bgam007 | 7.55 |
| Howard Crown |  bgam009 | 9.62 |
| Robert Zolliecoffer |  BGAM012 | 1.78 |
| Joe Weber |  BGAN002 | 7.13 |
| John Franco |  BGAN011 | 6.28 |
| george adair |  bgan012 | 2.07 |
| Paul Roth |  BGAN016 | 3.57 |
| Luke |  bgan021 | 15.18 |
| Don Hulick |  bgan033 | 11.75 |
| Meryl D Coon |  BGAN038 | 0.72 |
| GEORGE LEACH |  BGAN039 | 3.33 |
| Dan George |  BGAN040 | 4.30 |
| Bill Cox |  bgan041 | 11.95 |
| Ian Robertson |  bgan044 | 29.90 |
| Paul Mnesch |  BGAN047 | 11.37 |
| Bill Von Sennet |  bgas001 | 16.72 |
| Henrique G. Wiederspahn |  bgas003 | 9.27 |
| Henrique G. Wiederspahn |  bgas004 | 2.58 |
| Gary McCarty |  bgas031 | 195.12 |
| Charles Wert |  bgas039 | 1.32 |
| Jim Urquhart |  BGAS041 | 99.75 |
| Bill Hendrix |  bgas046 | 15.07 |
| AP Hendrix |  bgas047 | 10.00 |
| Allen Gale | bgas058 | 11.23 |
| Patrick Stewart |  bgas060 | 15.63 |
| Don Hulick | bgan033 | 0.75 |
WestCoastATC time for November 2006
1800z November 30th
<![if !vml]>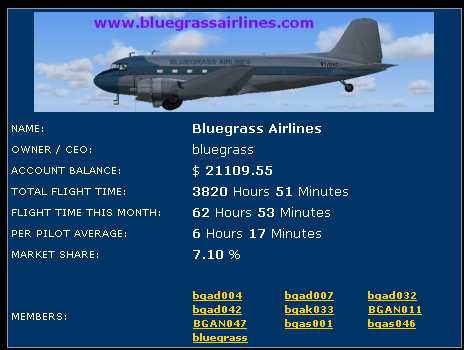 <![endif]>
<![if !vml]>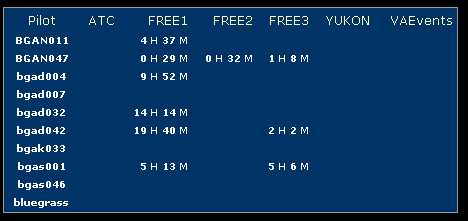 <![endif]>
Pilots who do not log any time on WestCoastATC for two consecutive months will be removed from the bga profile at WestCoastATC.   The purpose of this is to increase our average hours per pilot.  If you want to be reactivated click "Join Virtual Airline" and select Bluegrass.  I'll put you back on the next time I log in.
I've noticed some pilots are flying on WestCoastATC but have never clicked on "Join Virtual Airline" and associated their callsign with Bluegrass.   Also some pilots are flying, but not filing flightplans or using teamspeak.
From the C.E.O.
The response to my request for help in last month newsletter has been great.
Screenshots are handled by Bill Hendrix bgas046.
Flight Reports are handled by Allan Lowson bgam007.
Allan Lowson also supplied the December feature.
Smithy bgad032 has made several good suggestions for web-site improvement.
One of which was the new page "New Stuff".   You don't need to wait for the newsletter to come out to find out if something new has been added to the web-site.
Smithy is also the WestCoastATC co-ordinator.  Check the forum topic for possible upcoming flights.
Don't forget to check out the forum and screen shot pages. 
That's all for now,
Bill Von Sennet
Back Issues: November 2006  October 2006  September 2006    August 2006  July 2006   June 2006