<![if !vml]>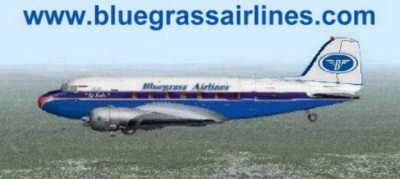 <![endif]>
May 2007 Newsletter
April Screenshot Contest
Vote for the best screenshot taken in April.  Screenshots are on the forum.  Votes will be accepted until May 15th.  And there is a forum topic for the voting.
Welcome to New Pilots
| | |
| --- | --- |
| bgad050 | Geoffrey Mason |
| bgak044 | Nagy Fero |
| bgad049 | VH-DAZ |
WestCoastATC time for April 2007
<![if !vml]>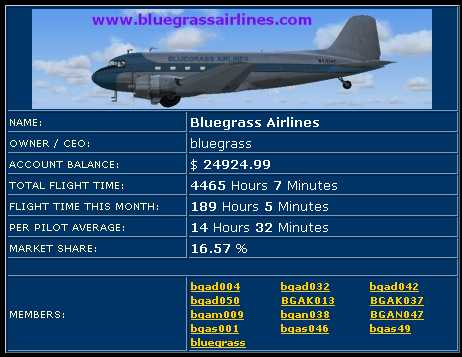 <![endif]>
<![if !vml]>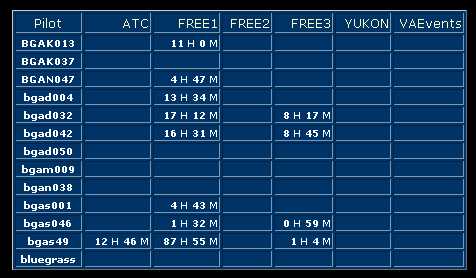 <![endif]>
Pilots who do not log any time on WestCoastATC for two consecutive months will be removed from the bga profile at WestCoastATC.   The purpose of this is to increase our average hours per pilot.  If you want to be reactivated click "Join Virtual Airline" and select Bluegrass.  I'll put you back on the next time I log in.
I've noticed some pilots are flying on WestCoastATC but have never clicked on "Join Virtual Airline" and associated their callsign with Bluegrass.   Also some pilots are flying, but not filing flightplans or using teamspeak.
From the C.E.O.
Don't forget to check out the forum and add your 3 cents.
That's all for now,
Bill Von Sennet
Back Issues: April 2007 March 2007  February 2007  January 2007  December 2006  November 2006