<![if !vml]>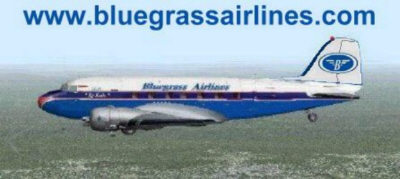 <![endif]>
September 2007 Newsletter
Feature of the Month
PanAm Pacific Clipper Operations 1941
By Bill Von Sennet
Screenshot Contest discontinued
We have not had a definitive winner in 3 months.  There doesn't seem to be as much interest in voting as in taking and posting screenshots.  Screenshots will continue to be accepted on the forum.
New Auto-Pirep System
The submit flight report page has been removed.  All flight reports will be made using the new Auto-Pirep System and real-time Roster.  The old roster is updated through 31-August and will remain on-line for another month.  The old "View flight reports" pages will remain on-line for archive purposes.
If you haven't done so already pilots will need to submit their log-on information at http://www.bluegrassairlines.com/bgad/submission.html
Welcome to New Pilots
Congratulations to Pilots Earning Promotions
| | | | |
| --- | --- | --- | --- |
| bgak036 | Paul van den Berg | | Sr.Captain |
| bgan044 | Ian Robertson | UK | Sr.Captain |
| bgad049 | VH-DAZ | | First Officer |
WestCoastATC time for August 2007
<![if !vml]>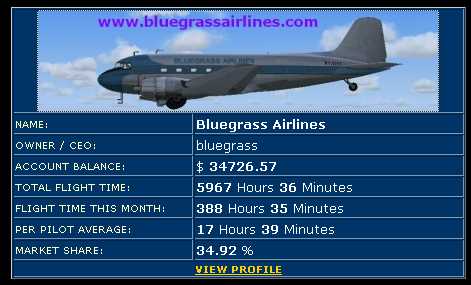 <![endif]>

<![if !vml]>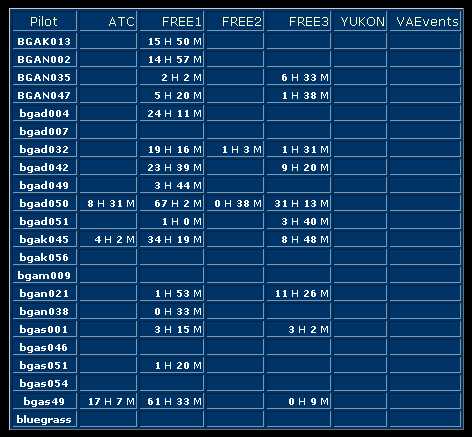 <![endif]>
Bluegrass is ranked #1 in average hours per pilot for August.  Congratulations to all of the pilots who have made this possible.
Pilots who do not log any time on WestCoastATC for two consecutive months will be removed from the bga profile at WestCoastATC.   The purpose of this is to increase our average hours per pilot.  If you want to be reactivated click "Join Virtual Airline" and select Bluegrass.  I'll put you back on the next time I log in.
I've noticed some pilots are flying on WestCoastATC but have never clicked on "Join Virtual Airline" and associated their call sign with Bluegrass.   Also some pilots are flying, but not filing flightplans or using teamspeak.
From the C.E.O.
Many thanks to Andy Hatcher of DC-3 Airways for setting up our auto-pirep system.    
Don't forget to check out the forum and add your 3 cents.
That's all for now,
Bill Von Sennet
Back Issues:  August 2007  July 2007   June 2007  May 2007  April 2007 March 2007