<![if !vml]>
<![endif]><![if !vml]>

<![endif]>
Bluegrass Airlines Headquarters
Links to all Divisions & Hubs
<![if !vml]>

<![endif]>     Pilots Forum
<![if !vml]>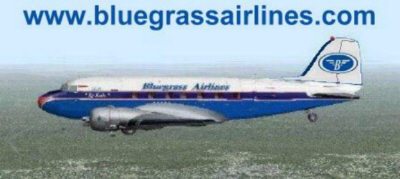 <![endif]>
SOUTHERN DIVISION
    If an item above is in red it
 has been changed recently
Check out the Pilots page for the latest news.
Now playing
"The High and the Mighty" from
Welcome!
We fly everything from DeHavalind DHC-2 Beavers up to the L-1049G Lockheed Constellation. We provide the planes and scenery to download, and routes to fly.
Bluegrass airlines is a little different than most VA's due to the fact that we fly vintage aircraft from the 1940's and 1950's and we don't put a lot of restrictions on our pilots. We understand that this is just a hobby and is supposed to be fun!
My office is always open for suggestions from the pilots. In other words, this VA is for the pilots and by the pilots!
I think you'll have as much fun flying with Bluegrass Airlines as we do.  Click here for a Pilots Application