<![if !vml]>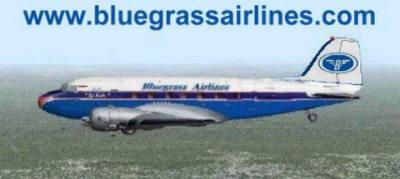 <![endif]>
May 2004 Newsletter
Air Mail Division
Activity:  1 Pilot flying 8.85 Hours.
Pilots from other divisions are flying Air Mail flights, but we don't track visiting pilots any longer.
Bush Pilots Division
Ron Jorgensen has submitted the Toughman Challenge #3 Phase 3 of 3.  This challenge takes place in Idaho, flying between several USFS fields. (U.S. Forestry Service).    This is the feature of the Month.
Welcome to new pilot Ron Snead Sr.
Activity.  11 Pilots flying a total of 229 hours in April.
Archie bgak050 recently asked in a pirep "Can you also tell me how I can become more involved with Blue Grass?
Well it all depends on what your interests are, and what talents you have.  We need a Bush Pilot Division Director, you should be able to modify the web-site and communicate with the pilots.  It used to be required to update the roster, but we are moving to a real-time automatic system soon.
You could contribute articles or monthly features.  Or you might have the ability to create scenery or paint aircraft.  Give some thought to where your talents/interests lie and email me.   bill@billvons.com
Australian Division
The Great Aussie Air Rally is over.  179 pilots have flown 9,282.77 hours, and 127 completed all 41 sectors.
I am particularly appreciative of the low drop out rate of Bluegrass Pilots.
High performers finishing in the top 50, were William (Bill) Agee 8th place, Dean Johnson 9th place, Ed Burke 28th place, Terry Murphy 29th place, Sid Tatton 41st place, Bill Hendrix 42nd place and Tony Brown 49th place
Welcome to new pilot Frank van Tongeren.
Activity:  143Pilots flying a total of 423.87 hours in April
Job opening:  Division Director
Northern Division
Activity:  5 Pilots flying a total of 241.77 hours in April.
Southern Division
Activity:   12 Pilots flying a total of 500.93 hours in April.
Job Opening:  Division Director
From the C.E.O.
Bluegrass pilots flew 1404.42 hours in April.   
Web-Statistics:   In April we had 10,099 visitors.
One of the most remarked on parts of the Great Aussie Air Rally was the "real-time" Roster, Flight Report and Scoring System.  These were all created and maintained by Todd Whitehead on of the G.A.A.R. pilots.  He is currently working on an automated Flight Report system for Bluegrass.
That's all for now,
Bill Von Sennet
P.S.  Don't forget to check out the forum and screen shot pages.
Back Issues:     April 2004   March 2004  February 2004    January 2004   December 2003  November 2003  October 2003