<![if !vml]>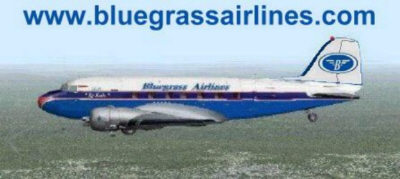 <![endif]>
April 2005 Newsletter
Features of the Month
Toughman Challenge #10 by Ron Jorgensen
An adventure and a half in P.N.G.
Update on the G.A.A.R. 2005
In March 1,741 flights have been flown.   The total of reported flights now stands at 5,595.  248 Pilots have flown sector 1, and 31 pilots have flown all 54 sectors.
Bluegrass Pilots should start reporting their gaar flights on the BGA flight report form as well as on the gaar system as of April 1st.
Multi-Player Flying
West Coast ATC would like to see more Bluegrass participation in organized ATC sessions.
I don't think any of you are involved, but some VA pilots have been sharing registration keys for commercial software with other pilots on the WestCoastATC TeamSpeak servers.   Violators have been warned and any future occurrence will result in banishment from W.C.ATC. 
Here at Bluegrass we always attempt to operate with high ethics, even to the point of requesting permission from aircraft designers before we repaint, or modify their files.  On the few occasions where permission was refused (or the request not responded to), we abandoned our plans for that aircraft
Welcome to New Pilots
Les Smith               bgad048
Allan Jarratt           bgad049
Erick Hood              bgad050
George W.S. Adair   bgan012
Michael Ahl             bgan013
Brian Clancy           bgan014
Rick Connolly          bgan015
Paul Roth               bgan016
We are glad to have you with us, and look forward to reading your flight reports.
Congratulations to pilots with promotions
Peter Fellowes        bgam008    Captain
Don Moore              bgad042    First Officer
Maurie King            bgad043    First Officer
Ron Munroe            bgad044    First Officer
MadMikel                bgad045    Captain
Michael Ahl             bgan013    First Officer
Rick Connolly          bgan015    First Officer
Sandy Blaize           bgas043     Captain
Updates to the Hangar
New in the FS 2004 hanger in March, are Mike Stone's SAAB 340B and Grumman Goose for FS 2004.
Repaints have been provided by Rick Connolly bgan105.  Check out Rick's web-site.  He has some great floatplane base scenery downloads.  
J.L Stubb's Grumman Goose panel from Aeroswine Research is also available.
From the C.E.O.
Our web-site had 7,628 visits last month.
A record 2,129 hits for the series of screen shots that start with 50308_gaar038.
My favorite of the group is:
http://bluegrassairlines.com/screenshots/50308_GAAR038%20Descent%20into%20Hobart.html
I will post that picture on the G.A.A.R. 2005 page.
My apologies for slow page loading, or "page not found" errors in March.  Our host has been dealing with DOS attacks "Denial of Service" for much of the last two weeks.  And one day there was a fiber optic cable disruption in the connection to one of the internet backbones.
All of the rosters have been combined.  When you click on the "Roster" link from your home division page, you are taken to the combined roster, but pointed at the top of your divisions section.   You can page up and down to see all of the divisions.
There is also a change in the flight report form.  All pilots are filing on one form now.  The messages that stated
"Don't use this form unless you are a member of the Southern (or whichever) Division" have been removed.
We will soon be moving to an automated "real-time" system similar to the G.A.A.R system.
Don't forget to check out the forum and screen shot pages. 
That's all for now,
Bill Von Sennet
Back Issues:     March 2005   February 2005   January 2005    December 2004   November 2004   October 2004   
September 2004   August 2004  July 2004    June 2004    May 2004   April 2004