<![if !vml]>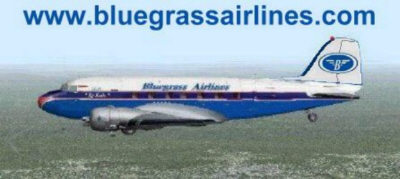 <![endif]>
May 2005 Newsletter
Feature of the Month
1944 Airlines of Winnipeg, Manitoba
Bush Pilot Division Feature
Toughman Challenge #11† by Ron Jorgensen
Update on the G.A.A.R. 2005
In April 841 flights have been flown.†† The total of reported flights now stands at 6,436.†
54 pilots have flown all 54 sectors.
All pilots should send me an email when they complete the G.A.A.R. so that I can send them an Award Plaque.
Bluegrass pilots should send me an email if they quit flying the G.A.A.R. so that I can add any G.A.A.R. hours since March 31st to the roster.
Multi-Player Flying
I am in the midst of removing all pilots who havenít flown in March or April from the westcoastATC Bluegrass profile.
Having inactive pilots is negatively impacting our standing among virtual airlines.
On April 30th we had a multi-player event.† 5 pilots participated.† It was scheduled at a time that would be convenient for those in Australia and America.† We had one participant from The Netherlands where it was about 2am!
On Tuesday May 2nd we have a multi-player event scheduled for 1630 Z.† This should be convenient for those in Europe and for any retired pilots in America.† We will meet on the Bluegrass TeamSpeak Channel at WestCoastATC.
We will be flying from KLEZ (Bluegrass Field, Lexington KY) to KLOU (Bowman Field, Louisville KY) and to KBGR (Bowling Green Regional, Bowling Green, KY)† Pictures of Bowling Green and the Historic Bowman Field are at the very bottom of the Screen Shot Page.
Check the Multi-Player Topic on the Forum for announcements of future events.† Any one who would like to be the Multi-Player Co-ordinator is encouraged to apply.† In the interim I will schedule 1 or 2 fights a week, but I may not be able to attend each event.
At our request, WestCoastATC has added a third 24 Hour Free Server.† To show our appreciation we will use Server 3.
Anyone who downloaded the kneepad modification from the Gaar 2005 web-site, there is now a 1k update that will display Server 3ís FSHost page on your kneepad while flying.† Download it here
Welcome to New Pilots
Gary Filippo †††††††††††††††††† bgak005
Al Green††††††††††††††††††††††† bgan020
Ray Brann††††††††††††††††††††† bgak002
Kieran Boundy††††††††††††††† bgad012
Achim††††††††††††††††††††††††††† bgan019
Odd Gunnar Pettersen††††† bgan017
Dentons†††††††††††††††††††††††† bgas009
Colin Baker†††††††††††††††††††† bgad004
†††
We are glad to have you with us, and look forward to reading your flight reports.
Congratulations to pilots with promotions
bgan013††††††† Michael Ahl†††††††† Captain
bgan016††††††† Paul Roth†††††††††† First Officer
bgas007†††††††† Sid Tatton††††††††† ATP Captain
bgak063†††††††† Jeffrey Lacey††††† Captain
From the C.E.O.
Our web-site had 5,670 Visits in April.
www.bluegrassairlines.com will be migrating to a new server sometime during May.
This should be a painless and transparent procedure as far as you are concerned, but
there could be interruptions to the forum and the pirep reporting system.† Donít panic,
keep track of your unreported flights and report them when the system is operational.
We will soon be moving to an automated ďreal-timeĒ pirep and roster system similar to the G.A.A.R system.
Donít forget to check out the forum and screen shot pages.†
Thatís all for now,
Bill Von Sennet
Back Issues:†††† April 2005†††† March 2005 ††February 2005† †January 2005††† December 2004†† November 2004† †
October 2004 ††September 2004†† August 2004 †July 2004 †††June 2004 †††May 2004††