<![if !vml]>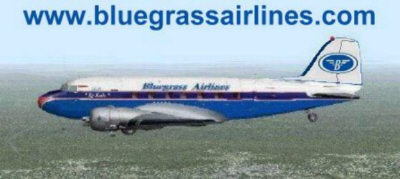 <![endif]>
September 2004 Newsletter
Feature of the Month
Due to Hurricane Charley in Florida, the second installment of the Imperial Airways Feature will be delayed until next month.
Iím going to revisit one of the old features that we had a few years ago at the Southern Division.††
Flying the Ford Tri-Motor on the TAT Route.
The FS2002 scenery download seems to work in FS 9, except that AI aircraft are floating about 20 feet in the air at Waynoka, OK and Wichita, KS (the only airports Iíve checked so far).† No problem, turn off AI aircraft.† The skies were pretty empty in 1929 anyway.
†For FS 2004 I have modified the airfile and aircraft.cfg for Pierino Primavesiís Ford Tri-Motor.† Neutral Trim shows on the panel as between 1 and 2 notches of up trim.† So give it two notches of up trim for take off.
Download the update here †(8k)
Air Mail Division
Activity:† 4 Pilots, 54 Flights and †128.18 hours.
Welcome to new pilot Robert Zolliecoffer
Bush Pilots Division
Activity.†† 11 Pilots, 112 Flights and 185.58 hours
Australian Division
Activity:† 10 Pilots, 89 Flights and 260.50 hours
Welcome to new pilot Terry Booth
Northern Division
Activity:† 6 Pilots, 59 Flights and 175.70 hours
Southern Division
Activity:†† 11 Pilots, 206 Flights and 620.18 hours
From the C.E.O.
42 Bluegrass pilots flew 520 Flights and 1370.15 hours
Web-Statistics:†† 5,973 Visits from 3,919 unique visitors.
Thatís all for now,
Bill Von Sennet
P.S.† Donít forget to check out the forum and screen shot pages.
Back Issues:† †† August 2004 ††††July 2004 †††June 2004 †††May 2004†† April 2004††
March 2004† February 2004††† January 2004†† December 2003† November 2003† October 2003