<![if !vml]>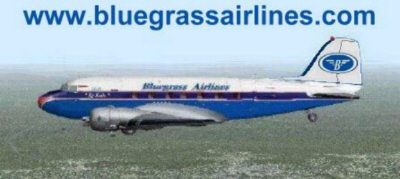 <![endif]>
July 2005 Newsletter
In Memory of Bill Odell
<![if !vml]>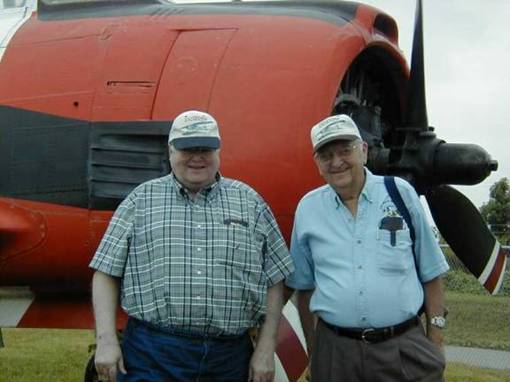 <![endif]>
Bill Von Sennet (l) and Bill Odell (r) at the Carolinas Aviation Museum  June 23, 2001
Bill Odell passed away on June 8th.  Last fall Bill had Quadruple bypass surgery.  Since then his physicians had only permitted him 30 minutes a day at the computer, so Bill had spent that time doing what he loved best: Flying a DC-3.  His last flight report was posted on March 5th.  Shortly thereafter due to his failing health he was moved to a rest home near his family.  The roster shows Bill has 2,918.23 hours with Bluegrass.  I can attest that he has far more hours that have never been logged.  Many of his flight testing adventures were never recorded.
Bill has been a prolific contributor of Features and flight adventures.  Due to his life experiences he was a storehouse of aviation information.  It was my privilege to communicate with Bill via hundreds of e-mails, and in June of 2001 we spent a couple of days together in Charlotte NC. Click here for that story.
Entering Bill Odell in the search box on the main page will find 24 links.  This is just the tip of the iceberg.  Bill was instrumental in setting up the Caribbean Hub flights.  Prior to his joining the Southern Division he was a member of the Northern Division and I'm sure he shared his ideas with Capt. Bob Thompson and Bangor Hub Capt. Art Nichols.
Bill was the author of "The Berlin Airlift" a project that he worked on for several years.  He was also the co-ordinator of the "Imperial Airways" feature.   Not long ago Bill transferred to the Bush Pilot Division and contributed to the flights available there.  He was the originator of the "Toughman Challenge" features.
In real life Bill served in World War II with the Army Corps of Engineers.  He once told me that he was at Normandy on D-Day minus 1.   I have always thought that perhaps he was installing a covert NDB transmitter so that the ships crossing the English Channel the next day could find the correct location to land the troops.   Bill was a pilot during the war, but was unable to log his time as he was involved in "special ops". After World War II he was a pilot with Florida Airlines, flying from Florida to the Bahama's and Providenciales in the Turks and Caicos.  His favorite aircraft was the Martin 4-0-4.  After Florida Airlines folded he flew with Executive Airlines.
Bill was extremely proud of the accomplishments of his children and grandchildren.  On behalf of the pilots of Bluegrass Airlines we extend our condolences to them.
I am not planning any special Memorial feature.  Each pilot can remember Bill in their own way.  As for me, I am going to fire up my ATP Capt Bill Odell DHC-3 Otter and take off from the Bill Odell float base near his former home in Cape Coral, Florida.  I'll fly the first couple of flights in his Florida Keys Adventure.
Thanks Bill for all the adventures you have shared with us.  
Feature of the Month
Toughman Challenge #13  by Ron Jorgensen
Update on the G.A.A.R. 2005
All pilots should send me an email when they complete the G.A.A.R. so that I can send them an Award Plaque.
Bluegrass pilots should send me an email if they quit flying the G.A.A.R. so that I can add any G.A.A.R. hours since March 31st to the roster.
Multi-Player Flying
WestcoastATC has joined Flight Project International and is now using the ATOC Pilot Client.  The old FSHost system is still available temporarily, but we are transitioning to the new system.  It requires downloading the AOTC pilot (4mb) and the base aircraft package (139mb).  I'd suggest printing the installation instructions so you can follow along as you install aotc.  If you have a home network you will need to setup static routing rather than dynamic routing. The instructions are explict and I had no problem getting it working on the first try.  You need to be registered at WestCoastATC with your Bluegrass Call Sign.  Your installation ID and password are found on your "Pilots Start Page"  Instructions and download links are on the "How to Connect" page.
Aotc has a voice client built in for communicating with ATC, and we will also continue to use TeamSpeak for Unicom.
Welcome to New Pilots
bgas011   Victor Buck
bgas009 Chip Scheetz
bgas007  Don Leveille
bgan004    Kenny Fox
Congratulations to pilots with promotions
| | | |
| --- | --- | --- |
| bgan004 | Kenny Fox | First Officer |
From the C.E.O.
Our web-site had over 7,500 visits in June.
Don't forget to check out the forum and screen shot pages. 
The summertime is usually the slow time for a Virtual Airline.  There are other things to take up your spare time.  So if the flight reports slow down a bit, we will understand.   Enjoy the good weather days and have fun with your family. 
That's all for now,
Bill Von Sennet
Back Issues:     June 2005    May 2005    April 2005     March 2005   February 2005   January 2005   
December 2004   November 2004  October 2004   September 2004   August 2004  July 2004