<![if !vml]>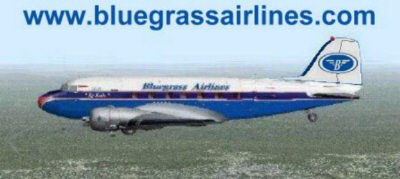 <![endif]>
October 2004 Newsletter
Features of the Month
The second installment of the Imperial Airways Feature is online.† Imperial Airways Chapter 2.
Ron Jorgensen has provided Toughman Challenge #6.†† This month is single engine mountain flying.
DC-3 Airways is sponsoring the World Rally 2004.† Many Bluegrass pilots will be participating.
For credit on the Bluegrass Roster you can submit each flight or just one pirep for all of them.
Check out the web-site:† DC-3 Airways World Rally 2004
Air Mail Division
Activity:† 3 Pilots and† 28.98 hours.
Bush Pilots Division
Feature of the Month:† Toughman Challenge #6
Activity.† †8 Pilots and 64.47 hours
Welcome to new pilots Andrew (no last name given) and Vern Mick.
Australian Division
Activity:† 8 Pilots and 236.67 hours
Northern Division
Activity:† 8 Pilots and 175.95 hours
Welcome to new pilots Chris Fry and Paul Mensch.
Southern Division
Activity:†† 11 Pilots and 515.78 hours
From the C.E.O.
September was a rough month for our pilots domiciled in Florida.† Four major hurricanes made landfall with some of our pilots getting hit with 3 hurricanes and others with 2 hurricanes.
In some cases, they had to evacuate their area and return later to find downed trees and flooding.† Fortunately no one was hurt and no one lost their home.
In every case, they lost power and internet connections.† Some still are not back on-line from Hurricane Ivan.
Iím thankful that God has kept them safe, and am sure that many of you had them all in your prayers.
-----------------------
Microsoft is releasing an FS 2004 update this month.† Mainly it will place bridges at locations that have been missing them.†† It will also correct some stability problems.†
-------------------------
Bill Lyons has been written up over at www.flightsim.com† in recognition of his 8 years of contributions to the flightsim community.
38 Bluegrass pilots flew 1021.85 hours
Web-Statistics:†† 5,348 Visits from 3,428 unique visitors.† The number of unique visitors seems high to me.† It could be that many of our regulars have disabled cookies, so they are counted as unique each time.† These stats are for www.bluegrassairlines.com only.† Berlin Air Lift, Imperial Airways and the airport facility directory pages are hosted on another domain and not included in these stats.
Thatís all for now,
Bill Von Sennet
P.S.† Donít forget to check out the forum and screen shot pages.
Back Issues:† †† September 2004†† August 2004 ††††July 2004 †††June 2004 †††May 2004†† April 2004††
March 2004† February 2004††† January 2004†† December 2003† November 2003† October 2003