<![if !vml]>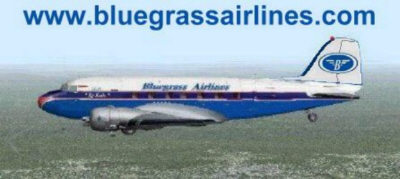 <![endif]>
November 2005 Newsletter
I received an update on Ron Jorgensenís condition: Right now Ron is not able to develop any more Toughman Challenge flights. He is having major problems with his left eye and has had five surgeries so far (the retina keeps detaching). This time they filled his eye with something to help hold the retina in place but he is still not able to see. The left eye was his 'good' eye. He tried using the computer with just the one eye but he got terrible headaches so the computer has been unplugged. It will be at least another 6 months before he is able to work on the computer.
Check out the FS 2004 Hangar!†† Thanks to Allan Lowson we have a Florida Airlines repaint of the default FS 9 DC-3.
This repaint was requested by Bill Odell who was a pilot for Florida Airlines after he retired from the Army Corps of Engineers.
<![if !vml]>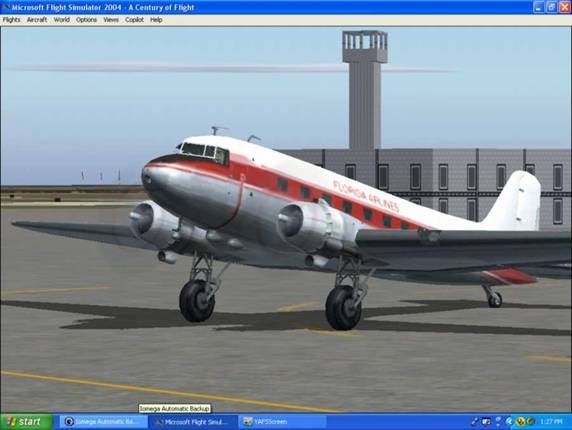 <![endif]>
---------------------------------------------------------------------------------------------------------------------
Franscisca Roele bgam011 has a repaint of the MAAM-SIM DC-3 in Bluegrass Colors available at
www.flightsim.com†† The file name is maambgac.zip† and if that doesnít work search the file library for roele.
----------------------------------------------------
I know that there is an ďAbout UsĒ page on the web site that say that Bluegrass Airlines began in March of 1999, but I have come across a web-page that I believe dates back to March of 1998.† Early Bluegrass Web-Page
That indicates that we will be celebrating our 8th anniversary just about the time the G.A.A.R. 2006 (our fifth annual G.A.A.R.) is finishing.
Speaking of the G.A.A.R., the web-site is just about completed, but wonít be open for business until January 1st. 2006.†† It is scaled down to only 20 sectors flown every 2nd day.† The flights are scheduled to be flown February 1st to March 9th. (two of the sectors are flown in one day).† We arenít circumnavigation the entire continent, flights will all be east of and mostly to the south of Ayers Rock.† Almost all of the airports will be new to the rally, and the shortest runway is 3,205 ft.††† The longest flight is 306 N.Miles but the average flight is about 175 N.Miles
Aircraft will be limited to classic aircraft that flew in the 1930ís, 1940ís and 1950ís.†† Leave your FSNavigator and GPSís in the hangar and come fly by the ďseat of your pantsĒ with a little help from NDBís, and a few VORís and ILSís.†
If any of our pilots plan on flying the G.A.A.R with FS2002 send me an email (bill@billvons.com) and Iíll send you the Flight Information files so you can advise me on any airports or navaids that are missing in FS2002.
West Coast ATC
The names of our TeamSpeak Channels have been changed.† The new names and purposes are:
BLUEGRASS AIRLINES OPERATIONS ††††† To be used by pilots in flight for position reports etc.
BLUEGRASS Pilotís Lounge††††††††††† ††††††† To be used as a meeting place for general chat and help from other pilots.
WestCoast ATC Oct 2005 Time
| | | | |
| --- | --- | --- | --- |
| | ATC | Server 1 | Server 3 |
| bgad004 | | 61 H 14 M | |
| bgad007 | | 25 H 26 M | |
| bgad009 | 7 H 16 M | 140 H 59 M | |
| BGAD013 | | 0 H 50 M | 1 H 21 M |
| bgad032 | | 1 H 8 M | |
| bgad042 | | 8 H 38 M | |
| bgak002 | | 1 H 17 M | 10 H 20 M |
| BGAN011 | | 24 H 29 M | |
| BGAN017 | | 4 H 10 M | |
| bgas001 | | 8 H 19 M | |
Welcome to New Pilots
| | |
| --- | --- |
| bgas018 | Arlie Dicknite |
| bgak012 | Joe Porter |
| bgak010 | Stub Persons |
| bgas009 | Brian Parker |
| bgak009 | Gorden Volker |
| bgad014 | John Jordan |
| bgad013 | Steve Goodman |
| bgad012 | Eric T. Schellekens |
Congratulations to pilots with promotions
| | | |
| --- | --- | --- |
| bgad009 | Nathen Miller | Sr. Captain |
| bgad004 | graeme mckenna | First Officer |
| bgak033 | Tom Burrill | Sr. Captain |
| bgad013 | Steve Goodman | Captain |
| | | |
| --- | --- | --- |
| Oct-05 Pilot Hours | | |
| | | Hours |
| | †bgad004 | 58.32 |
| Sid Tatton | †BGAD007 | 40.85 |
| Nathen Miller | †bgad009 | 132.32 |
| Steve Goodman | †BGAD013 | 3.52 |
| John Lawler | †bgad017 | 17.17 |
| Gayngel van den Ing | †bgad022 | 92.60 |
| Smithy | †bgad032 | 41.13 |
| John Gilbert | †BGAD033 | 12.40 |
| Jay Lamos | †BGAD040 | 3.17 |
| don moore | †bgad042 | 8.57 |
| Brent Brazeel | †bgak001 | 20.93 |
| Gordon Volker | †bgak009 | 4.23 |
| Stub Persons | †bgak010 | 1.17 |
| Coleman Green | †bgak011 | 1.37 |
| Pat Daley | †bgak029 | 2.72 |
| Tom Burrill | †bgak033 | 18.80 |
| Paul van den Berg | †bgak036 | 10.82 |
| Tim Arnot | †BGAK054 | 1.92 |
| Bob Welch | †BGAk060 | 3.08 |
| Allan Lowson | †bgam007 | 16.53 |
| Joe Weber | †BGAN002 | 27.00 |
| Barry Kleiber | †BGAN010 | 16.93 |
| John Franco | †BGAN011 | 32.88 |
| Michael Ahl | †BGAN013 | 102.18 |
| Paul Roth | †BGAN016 | 4.27 |
| John Kolmos | †BGAN029 | 4.67 |
| Don Hulick | †bgan033 | 3.35 |
| Allan Carmel | †bgan036 | 1.70 |
| Meryl D Coon | †BGAN038 | 0.73 |
| GEORGE LEACH | †BGAN039 | 1.50 |
| Paul Mensch | †BGAN047 | 17.53 |
| Bill Von Sennet | †bgas001 | 34.58 |
| Bill Agee | †bgas006 | 4.28 |
| Don Leveille | †bgas007 | 0.70 |
| Jon Carlson | †bgas012 | 9.92 |
| Lyle Hasty | †BGAS017 | 6.93 |
| Charles Wert | †BGAS039 | 0.60 |
| Jim Urquhart | †BGAS041 | 103.08 |
| Dean Johnson | †bgas044 | 14.93 |
| AP Hendrix | †bgas047 | 6.40 |
| Tom McCoy | †bgas057 | 7.60 |
| Patrick Stewart | †bgas060 | 48.13 |
Donít forget to check out the forum and screen shot pages.†
Thatís all for now,
Bill Von Sennet
Back Issues:††† October 2005† September 2005† †August 2005† †July 2005† †June 2005†† †May 2005††
†April 2005† March 2005 ††February 2005† †January 2005††† December 2004†† November 2004†